Where were you during the Women's World Cup in 1999? You know, when
this intentional wardrobe malfunction happened
. More might recall a little better now after checking out that photo, but it probably was not as significant of a moment to most. Well, unless you were a 12-year old soccer fanatic like me - that day became one of the first pop culture events that is vividly stuck in my memory.
What an iconic moment! Brandi Chastain was watched in anticipation by my own soccer team gathered in a living room. Just a a bunch of squeeling girls peered on as Chastain, stuck in a shoot out, soared that final goal into the net. We jumped up, cheering for them as if we were right on the field. Women's sports still don't get enough credit, but to me and those girls back then, and definitely to millions of other girls around the world, that moment signified a sense of power and excellence - we never doubted it, but it proved to the rest of the USA that girls could be awesome athletes too.
I played Soccer nearly year round from about age 7 to 8th grade. With the competitiveness of state championships and what not in High School, it all got a little too political for my taste, which lead to me taking orchestra more seriously instead. If only I'd known the stress of success hits the arts just as avidly as the athletes.
It's been awhile, but I always hope one day the part of me that misses organized sports will get back to it. Can you tell that getting absorbed in The World Cup this week has left me pitifully nostalgic?
Over the last couple weeks exciting moments have made for fantastic entertainment. First, the US vs Portugal match was a heartbreaker. Oh that Rinaldo with his perfect faux hawk got us again. Then, just when it looked like we were ruling the world, the US is officially dunzo.
Merely minutes ago, after a full match with a tied 0-0 score and thirty minutes of overtime that had me on my feet yelling, Belgium made for a rigorious competitor and in the end edged us out 2-1. Mr. Goalie, Tim Howard, was diving and sliding like a boss, and officially has my heart.
I know, I know - too much sports talk for a movie-centric blog? To me all kinds of culture blend together, so in that vein lets celebrate the world's pandemonium over Soccer/Football with a few memorable flicks.
My brother, cousins and I were all kids that played soccer, which lead to certain movies playing on repeat, especially during summertime sleep-outs.
The Big Green
[My face whenever I was picked to play goalie.]
Kids down on their luck who work together to become the best team around has been a popular movie theme for years. They started as nothings, but guess what, they became something. Everyone fondly remembers owning this in the big VHS plastic case.
The Ladybugs
Guy who is great at soccer dresses as a girl, and wears one hell of a wig to play on a fledgling soccer team - a plot we learn years later also works in reverse... Man I want to watch this right now. It's Jackée!!

Switching Goals
Mary Kate and Ashley, whose made for TV/straight to video canon are what every 90s childhood was made of, did it again when they played sisters, who, from what I recall, really want to switch soccer teams. They just literally switch goals, with hyjinx ensuing!
Really you should stick with the ridiculousness of
Getting There
and
Winning London
, but this one really fits the theme.
Even as a teen, there were still a few movies coming out that revolved around the pitch.
Soccer and Shakespeare (it is based on
Twelfth Night
after all), Amanda Bynes in her prime, David Cross, and Channing Tatum in his early work. All good things from this honestly hilarious movie.
Bend It Like Beckham
Being a teen during the height of the British indie's release meant I was obsessed with this tale about two BFF's traversing the trials of life while also being bad-ass soccer players.
Jonathan Rhys Meyers
is also there being all attractive as their soccer coach - nobody blamed
Keira Knightley
and
Parminder Nagra
for having a somewhat inappropriate crush on that guy.
Generally being a sports movie/Colin Firth fan means that there are also quite a few flicks that I always meant to watch but never have. Looking for a soccer movie that doesn't star an Olsen Twin? Maybe give these a shot, I will too.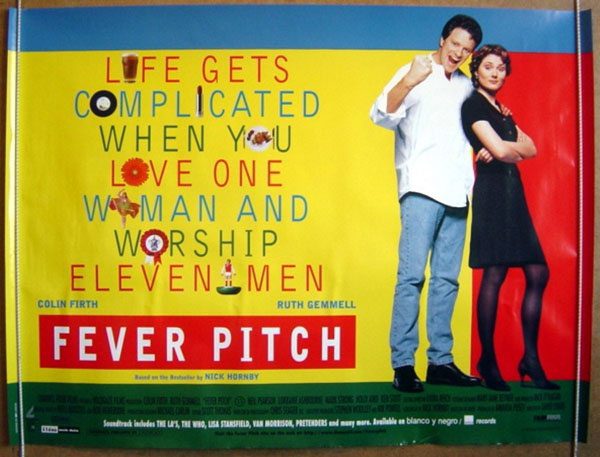 Fever Pitch
The Damned United
The Green Street Hooligans
The US might be out, but the world's population will still have a 101 degree football fever for the next couple weeks. Even if you're not usually a soccer fan, try it out. The stakes are so high for the players that the odds of coming across an electric game to watch is a certainty.
Until next time.
P.S. Want to learn about the origin of soccer? Take time to listen to the
"Stuff You Should Know"
podcast on the topic immediately. It is packed full of interesting facts.