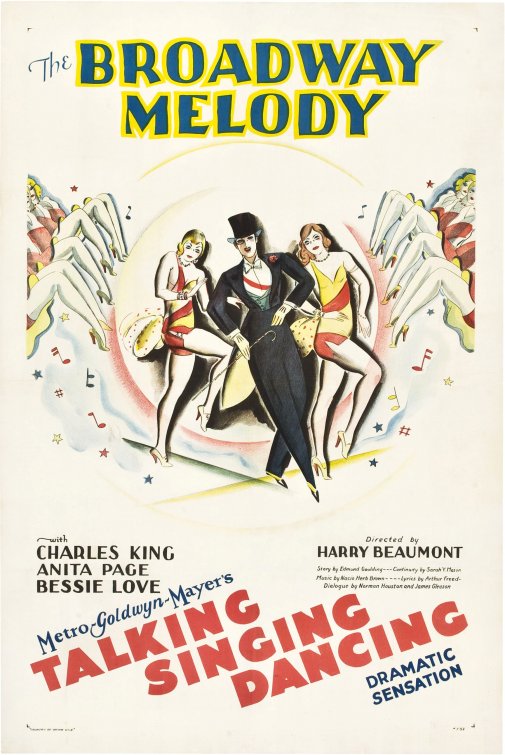 From Mary Poppins to The Sound of Music, and in most recent years Mammia Mia!, movie musicals are beloved by movie fans in every country around the world. It was the Best Picture Winner of 1929 that paved the way for the continued success of movie musicals to this day. In only the second year of the Academy Awards,
The Broadway Melody
became the first movie musical to win Best Picture. The film is over 80 years old, but it clear how much influence it continues to have on modern day musicals and movies in general.
While watching this film it became obvious that this just might be the oldest movie I have laid my eyes on.
Turner Classic Movies
, has profiled the movie, and they recall that this was the first all talking movie that MGM ever produced. Stigmas of old movies might keep people away from The Broadway Melody-but I think most people shouldn't be like me and wait until they force themselves to watch this film.
It focuses on a now classic story; anyone struggling to make it on the Broadway stage. Two sisters come expecting that their act will make them the queens of New York, but nothing is ever as easy as it seems. Men, money, and success face the sisters who then must decide if performing was really meant for them.
Catchy music and impressive production numbers, mostly set in a New York theater, offset the drama happening with the characters. Extremely talented actors and dancers(particularly this remarkable scene in which a ballet dancer performs tap while on pointe) also keeps the movie entertaining.
I love watching old movies and realizing how behind I am on acting talent. Instantly, I was drawn towards Bessie Love, who plays the feisty sister Hank. Anita Page plays Queenie, the more glamorous sister, but Love clearly dominates as she looked effortless in her performance. The Academy seemed to agree as Love was nominated for Best Actress that year. The film was also up for Best Director, but just took home the one award for Best Picture.
This movie is a time capsule. From the costumes, to the set, to the performers its rare to be able to watch a movie and know that a moment in time was perfectly captured so future generations can look back and see history. Its exciting to find that old movies hold up, and are still entertaining to this day.